Powered by Google's Wear OS, the Samsung Galaxy Watch gives you access to some of the best apps at the tap of a screen.
But with hundreds, if not thousands, of apps to choose from, which ones do you install on your Galaxy Watch and which ones do you leave out?
Ultimately, it's up to you, as user preference isn't a constant metric when it comes to the wearable ecosystem.
14 Best Apps for Samsung Galaxy Watch
Here's a look at some of my favorite apps for my Galaxy Watch 4, which you might as well find helpful enough to install and use.
1. Spotify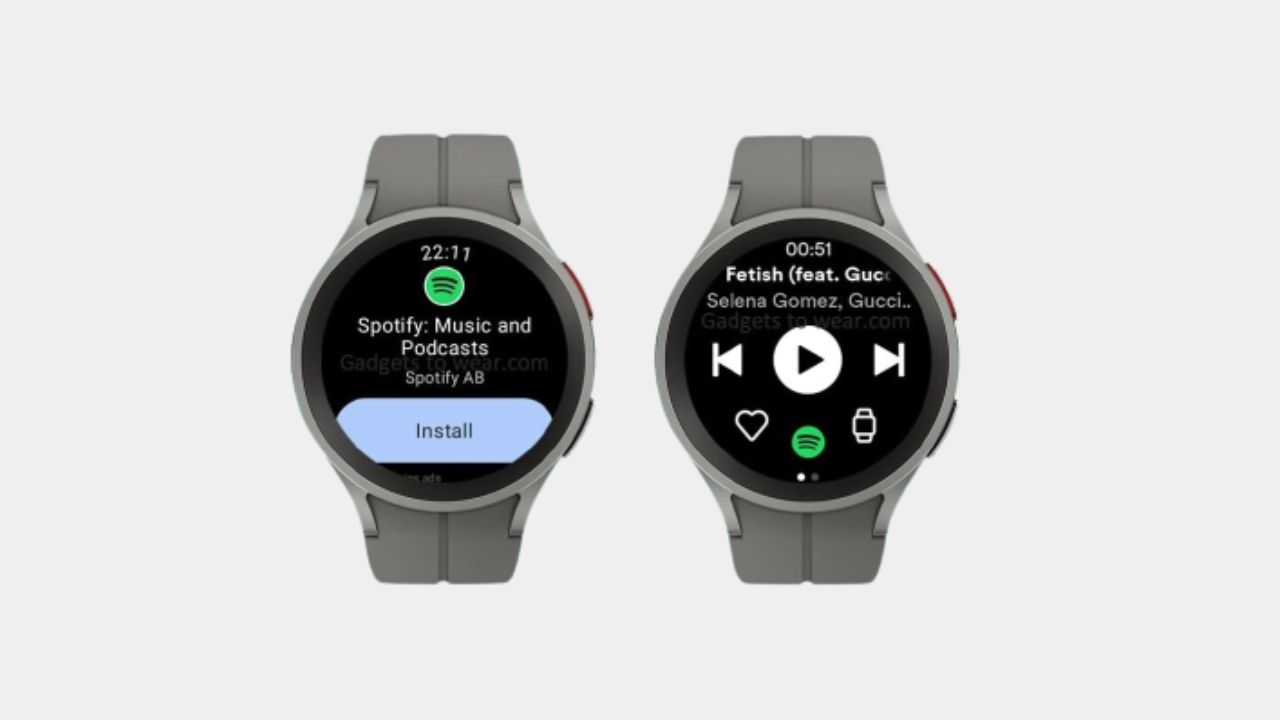 Do you want some entertainment while working out? Or maybe you want to listen to music from your Samsung Galaxy Watch without reaching out to your phone?
And how about listening to podcasts by your favorite celebrities, inspirational speakers, and content creators? 
Get the Spotify app.
Spotify is free and paid, and it's by far one of the best music apps for Samsung Galaxy Watch.
The free version has limited features. But what you get without paying a dime is still good enough. With Spotify premium, you can download music and podcasts directly to your Samsung Galaxy Watch for offline play.
2. Camera One
Camera One app lets you take high quality photos with your Samsung Galaxy Watch without reaching out to your phone.
The app is powerful that it takes the full control of your smartphone's camera and allows you to capture special scenes and memories that you can keep as souvenir.
3. SmartThings
Have you ever imagined controlling the lights, locks, speakers, cameras, thermostats, and garage door openers from your Samsung Galaxy Watch?
Get the SmartThings app from Google Play store, create an account, connect your Samsung devices, and control them as you wish.
SmartThings app does not require a weekly, monthly, or annual subscription.
4. Wrist Flashlight
The Wrist Flashlight app works similarly to the flashlight app on your phone. The only difference is the light comes from the watch's screen.
With this app, you can light your path to see where you are stepping or light up your room if there's no power coming from your home's grid system.
Wrist Flashlight lights in various colors such as red, orange, and blue. To intensify and dim the light, drag your finger clockwise and anticlockwise respectively on the bezel or display.
This app is compatible with the Samsung Galaxy Watch 4, Galaxy Watch 5, and Galaxy Watch 5 Pro.
5. Strava
The Samsung Galaxy Watch works seamlessly with the Samsung Health app.
By itself, Samsung Health has enough set of unique features for tracking health and fitness, but it's not the only health app that works with the Galaxy Watch ecosystem.
Strava is also a good option that you can use alongside the Samsung Health app.
With Strava, you can record runs, cycles, Cross Fit, weight training, elliptical, stair stepper, and yoga. The app is free to download and use. But you'll need a premium subscription of $7.99 per month or $59.99 per year to have full access to all the features.
6. Voice Recorder
With Voice Recorder app, you can record ambient sound, other people's voices, or secretly record a conversation. But, of course, you want to make sure you're respecting other people's privacy if you're ever going to record their voices.
The app comes pre-installed in some watch models. If your model doesn't come with the app pre-installed, you can download it from the Samsung Galaxy Store.
Voice Recorder is easy to use. To record, launch the app, tap the red button to start recording. And because it runs in the background, it can record a conversation in real-time even if you've turned off the watch's display.
7. Calculator
You won't use the Calculator app on your Galaxy smartwatch every day, but it's still an important tool to have because you have no idea when it might come handy.
The app is simple in design and sufficient for basic calculations. Use it to add, subtract, divide, or multiply digits whenever you want to do quick calculations. 
8. Samsung Health
Samsung Health is an app exclusively optimized for Samsung Watches. Built into it are features that you need for health and fitness tracking.
I love how Samsung Health presents metrics in the dashboard. You get this sort of nice arrangement, where the developers have put stats into sections for easy accessibility.
This health and fitness app will also let you link with your friends and family to make health and fitness tracking more fun.
9. Todoist
You can now create a To-Do list from directly from your wrist. Simply install the Todoist and use to stay organized at work and in your life.
With the Todoist app, you can stay on schedule by setting due and recurring due dates for your tasks. The app also features Inbox, Today, and Upcoming View options to help you keep track of your tasks.
10. Uber 
Uber app for Samsung Galaxy Watch lets you request for rides to wherever you want to go. However, you must have the app also installed on your Android smartphone for it to work on the watch.
Besides requesting for a ride, Uber lets you see the distance remaining to get to your destination once you're aboard.
11. Simple Wear
Simple Wear is also one of the best apps for Galaxy Watch, which lets you control certain functions of your watch.
For example, the app lets you access your phone's quick settings toggles, which include the sound profile, Wi-Fi, location, phone lock, and so much more.
You need to install the same app on your smartphone for this app to work.
12. SoundCloud
SoundCloud is the world's largest online community of artists, audio creator bands, and DJs. And it's one of the best music apps to install if you want to enjoy great audio at zero cost.
The SoundCloud app is a great alternative to Spotify because its free version offers more control options.
13. Gesture Launcher
With Gesture Launcher, you map or draw a letter on the watch's screen and an app opens depending on the assigned signature.
This app lets you bypass the crowded app menu and instead takes you to the app that you want to use.
You can access this launcher by tapping the right edge of the screen display.
14. Facer
Download and use the Facer app to personalize your watch Samsung Galaxy Watch display.
Once you download the app, you can open and find a list of pre-made watch faces or use the tools provided to create your own.