Built for durability and performance, a Fitbit device can run up to 5 days on a full charge. When the device runs low on battery, you'll have to juice it up to continue tracking your metrics. So learn how to charge a Fitbit the right way – and do so in just 120 minutes.  
You can charge your Fitbit using a DC-to-USB adapter, a wall charger, or charging cable connected into a computer. How long it takes to charge will depend on the charging method you use. But you can expect your Fitbit's battery to be full within 120 minutes.
In this guide, you'll learn the different ways to charge your Fitbit device regardless of the model that you have.
Key Takeaways
It takes 1 to 2 hours to charge a Fitbit battery to the 100% level, but some models can take less time.
You can only use a charger unique to your Fitbit model to charge the device. For example, a charger designed for Fitbit Luxe won't work for Fitbit Charge 5.
Some Fitbit models come with magnetic chargers. For these, ensure the magnet aligns against the back of the device for effective charging.
Does Fitbit Come With a Charger?
Fitbit doesn't build dedicated wall chargers.
What you get is a USB charging cable that you can plug into a UL-certified USB wall charger, a power bank's port, or computer USB port.
Whether or not Fitbit plans to design dedicated wall chargers for its models is something we still don't know.
Even then, the option that we already have is good enough to juice up the battery in not more than 120 minutes of charging time.
What Does a Fitbit Charger Look Like?
On one end of a Fitbit's charging cable is a USB that connects to a power source.
The other end varies in shape and size specifically for the different Fitbit watch and tracker models.
This end may be magnetic or otherwise, and it attaches onto the back of the watch or tracker to transfer power from the outlet to the battery.
From a design standpoint, these charges are made of durable materials for durability and fast charging.
How to Charge a Fitbit Smartwatch and Fitness Tracker
There are four ways to charge a Fitbit fitness tracker and smartwatch. Although the charging time for each method varies, they can all the battery charged to 100%.
Whatever method you choose should work well for all Fitbit models, including Ionic, Blaze, Versa, Charge 2, Charge 3, Sense, Sense 2, Versa Lite, Versa 2, Versa 3, and Charge 5.
Here are the options:
1. Charge Your Fitbit with a Computer
Your first option is to use a laptop or desktop computer to charge your Fitbit device. This method is a no brainer, so you don't have to overthink anything here.
Attach the proprietary charging cable to the device.
Plug the USB cable to your computer or laptop's USB port.
Allow the Fitbit at most 2 hours to charge.
Using a laptop to charge a smartwatch is a common technique. And while it may not be as fast as a wall plug charger, it's still an effective way to juice up the device.
2. Connect the Cable to a Wall Charger
You can also charge your Fitbit device in a wall outlet, and this method is particularly viable if you want to charge the watch or tracker fast.
I strongly recommend that you get a UL-certified USB wall charger, and for a good reason.
Ideally, such a USB wall charger has a protection mechanism that keeps your device and battery in good condition, even if you delay to unplug the device from power after charging.
3. Use a Fitbit Compatible Charging Cradle
You can use a charging cradle to recharge a Fitbit battery, but keep in mind that this option only works with some models.
For example, Tranesca 2-in-1 Charger is only compatible with Fitbit Versa.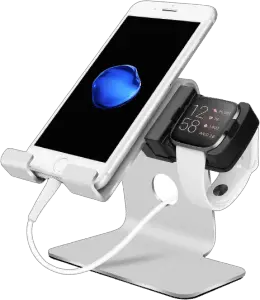 It's a cheaper option than a power bank.
But it features a voltage regulator and overcurrent protection to keep the device in the best condition should you fail to take it out of charge immediately the battery recharges to 100%.
For this option:
Place your Fitbit onto the charging cradle, making sure you align the charger to fit and hold onto the back of the watch.
Connect the charging cradle's USB cable to a USB port. You're free to connect the cradle to a computer or a wall charger.
Charging should start as soon as you turn on power to the USB port. You'll see your Fitbit device light up and there will be a charging icon on the screen to indicate that the device is currently charging.
Ensure the screen of all the Fitbit models that you can charge on the cradle face upwards in your direction.
4. Use a Power Bank to Charge Your Fitbit
Fitbit smartwatch and fitness tracker owners hardy ever mention power banks when it comes to charging the device. But I believe it's also a good option to juice up the device on the go.
As long as you're willing to carry some load with you and bring the charging cable along, a power bank just might be helpful.
The Anker portable charger is a good option to consider if you need something under $50, especially since it supports USB-C and a micro USB.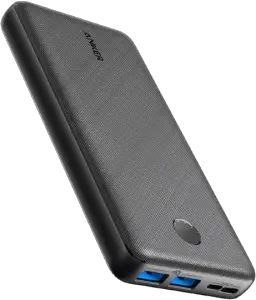 To use such a power bank to charge your Fitbit watch or tracker:
Clip the charging cable to the back of your Fitbit device, making sure that the gold contacts align with the pins.
Plug the other end of the charging cable to the power bank. The charging should start automatically if the power bank has charge.
Check the charge status, and disconnect the watch or tracker from the power bank as soon as the battery charges to 100%.
Unclip the charging cable from the back of the device.
A power bank may not offer fast charging as a UL-certified USB wall charger does. But it's still a good way to recharge the battery if you wish to do so on the go.
Related Posts
Frequently Asked Questions
1. How Can I Tell If My Fitbit is Charging?
Look at the display to tell if your Fitbit is charging. You should see a charging icon on the screen to indicate that the device is currently in the charging mode.
All you have to do now is to give the Fitbit at most 120 minutes (2 hours) to charge.
2. How Do I Know My Fitbit Is Charged?
A green, solid battery icon with a smile will appear on the screen once your Fitbit is fully charged.
You can even check if your watch or tracker is still charging or simply check the battery level by double taping the screen.
3. When Should I Charge My Fitbit?
There's no right or wrong time to charge your Fitbit fitness tracker or smartwatch. In fact, how often you charge the battery will depend on a few factors, including the active features, the weather condition, and the frequency of use.
I do recommend charging the device as soon as the battery level is below 15%.
To be clear, 15% isn't a value cast in stone. You should look at the battery level at the top right of your Fitbit and charge the device if the battery's color turned from yellow to green.
You might want to consider charging it up to 50% if you're in a hurry. Doing so will give the watch enough power to run through the rest of the day – if not for a day or two before the next charge. 
4. Can You Overcharge a Fitbit?
You cannot overcharge your Fitbit.
Fitbit smartwatches and fitness trackers feature battery management circuits, which offer overcharge protection.
So if you forgot to unplug your Fitbit from power after 2 hours of charging, you won't have to worry about the condition of the battery at all.
Still, I think it's important to avoid leaving your device plugged to power once it charges to the 100% mark.  
Final Thoughts
Charging a Fitbit smartwatch and fitness tracker is easy and straightforward provided you use the right charger.
Based on my testing, I find most smartwatches and activity trackers taking between 60 and 120 minute to fully charge. A Fitbit takes about the same to time to juice up from zero to 100%.