Do you find the Apple Watch's price too steep to justify? Does a short battery life in a smartwatch turn you off despite its array of great features? Or maybe you love flexibility and don't want to confine yourself to an iOS-only ecosystem? It's time to look at the best Apple Watch alternatives.
Ideally, the best substitute to an Apple Watch is a smartwatch that meets your personal needs without being too expensive to maintain. If it's lightweight, comfortable, responsive, easy to use, and optimized for performance, go with it.
In this guide, I present to you the best smartwatches that are just as good as the Apple Watch.
It doesn't matter if you're on a tight budget or if you're an Android user. One of these alternatives just might be a good fit for you.
Let's have a look, shall we?
Key Takeaways
The best non Apple Watch smartwatches that you'll ever need are:
Fitbit Charge 4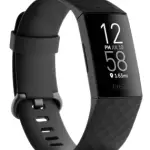 Positives
Get calls, texts, and app alerts
Safe for water use
Good for sleep, stress, and HR
Negatives
Boring monochrome display
Poor battery in GPS mode
Swim stats not present in the app
Fitbit Charge 5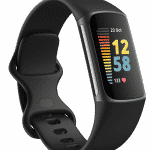 Positives
7-days battery life
NFC chip included for payments
Offers smart notification
Negatives
Brightness not easy to tone at night
Body temperature reader missing
Sometimes misses stairs climbed
Fitbit Versa 2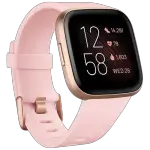 Positives
Lightweight with a premium display
Excellent battery life
NFC and Spotify music control
Negatives
Most features need premium plan
Not many smartwatch
4 Best Apple Watch Alternatives That Work Well
Apple designs some of the top smartwatches in the wearable world, but this isn't the only brand that plays well in the niche.  
Here are non-Apple smartwatches that are compatible with Android and iOS:
1. Fitbit Versa 4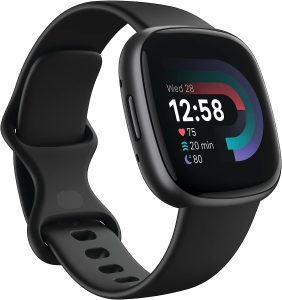 Going for just under $200, about 4 times less the price of the Apple Watch Ultra, Fitbit Versa 4 continues to rack up positive reviews even to this day. And it currently sits at the very top of the brand's wearable inventory.
You will love the smartwatch because of its cross platform compatibility, functionality, and smooth performance.
This Apple Watch alternative features a colored, 1.5-inch AMOLED touchscreen display with adjustable straps that fit small, medium, and large wrists. Its screen is 0.4 inches less the size of Apple Watch's display, but that difference, in my opinion, isn't a deal breaker.
With a resolution of 336 x 336 pixels, Fitbit Versa 4 lets you view stats without strain, even under direct sunlight. Of course, it doesn't beat the Apple Watch in terms of resolution. But that isn't such a big deal because the content on Versa 4 screen won't look grainy at all.
Fitbit Versa 4 has an internal storage of 4GB. That's 14 GB less of what you get from an Apple Watch. But it's big enough to load and run pre-installed and your favorite Fitbit apps with zero performance lag.
In testing, Fitbit Versa 4 stood out as a fitness tracker and smartwatch that get the basics of health and fitness right. For example, you can use it to count steps, track sleeps, check calories burned, and to monitor your heart rate during workout.
Like Apple Watch Series 3 and App, Versa 2 is waterproof up to 5 ATM in simulation testing, which means you can swim with it without worrying about pool and open water damages.
Pros
It has an excellent battery life on a single charge.
Fitbit Versa 4 is four times cheaper than Apple Watch Ultra.
Includes an onboard GPS to track distance, pace, and mapped routes.
Waterproof up to 50 meters.
Cons
2. Amazfit GTS 2 Mini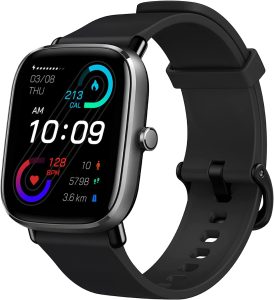 The Amazfit GTS 2 Mini looks almost exactly like my Apple Watch Series 6. But despite being an Apple Watch look alike, this smartwatch is a different entity that runs on a completely different operating system.
Amazfit pushes the GTS 2 Mini as a smartwatch for men, but its look and feel can fit anyone nonetheless.
For starters, the GTS 2 Mini features a 1.5-inch AMOLED display with a 354 x 306 resolution. And while that's smaller screen real estate than what you get from an Apple Watch, it's still good enough for a smartwatch this cheap.
While the GTS 2 Mini is one of the Apple Watch alternatives that retails for under $100, it doesn't have a big internal storage. You only get 3GB space for the price point, but that's to run the device's ecosystem smoothly.
This smartwatch has 70 sports modes built into it. So, whether you're into indoor workouts or high intense outdoor exercises, you might find this to be a handy companion.
And given its water-resistance rating of 5 ATM, you can wear it to a swimming pool and open water sports.
Furthermore, the smartwatch includes a set of algorithms that gives you helpful insights into your overall health. Like the Apple Watch, Amazfit GTS 2 Mini can monitor your heart rate, track sleep, measure blood-oxygen saturation, and help with female health tracking.
In my view, the battery life is the biggest selling point of this smartwatch. It takes roughly two hours to charge the battery to full capacity, and this gives you a runtime of 14 days. How cool is that?
Pros
It's a cheap alternative to the expensive Apple Watch series.
You get a good display with a decent scree resolution.
It has a decent battery life.
The smartwatch supports calls, text, apps, calendar, and weather alerts.
It supports music playback for Android and iOS smartphones.
Cons
GTS 2 Mini has very limited features.
You can't download or store music to listen to offline.
3. Samsung Galaxy Watch 3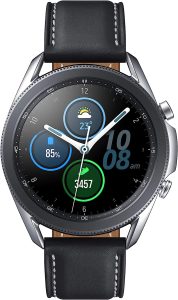 The Galaxy Watch 3 may not be the best version Samsung has built. But it's an option to consider if you don't want to pay a steep price for the Apple Watch.
It's available in two display sizes, the 1.2-inch and the 1.40-inch. While the AMOLED display isn't as big as what you get from the Apple Watch, the screen real estate is still sizeable enough to allow for optimal interaction with the smartwatch.
At 360 by 360 pixels, the Galaxy Watch 3 has a better resolution than Fitbit Versa 4 and Amazfit GTS 2 Mini. As such, you get a more vibrant display that guarantees clarity, almost near the level of the Apple Watch.
There's an 8 GB of internal memory, enough to store your favorite Galaxy apps and your favorite music.
Samsung Galaxy Watch 3 features seven popular sports modes. And while that's not close to what you get from Amazfit GTS 2 Mini, it's enough to keep you on your journey to fitness.
In addition to offering you helpful guided breathing, this smartwatch can track and report your sleep, not to mention check on your stress levels. And in the event of a hard fall, the device will automatically send a notification to your emergency contact so you can get urgent assistance.
And there's more.
While the Galaxy Watch 3 isn't as prime as Watch 4 or Watch 5, it can monitor your heart rate and your oxygen levels with a decent degree of accuracy.
And it isn't just water-resistant up to 50 meters deep. You can actually use it to track swim workouts.
Unfortunately, Samsung Galaxy Watch 3 fails when it comes to battery life and charging time. It takes almost 3 hours to juice the battery to 100% mark. And then you get a maximum runtime of just 2 days, which isn't fair for an alternative smartwatch at its price point.
Pros
You never miss calls or text notifications.
It includes an ECG sensor.
Ideal for swim workouts, as it tracks distance, laps, and strokes in the pool.
It's compatible with Android and iOS.
You have the option to charge it wirelessly.
It has an array of smartwatch and fitness tracking features for the price point.
Cons
Galaxy Watch 3 has a poor battery life.
You don't get as many sports modes.
The charging speed could use an upgrade.
4. Fitbit Sense 2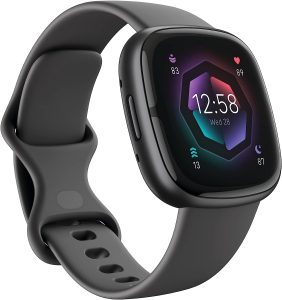 Fitbit Sense 2 may not have as many premium features as the Apple Watch Ultra. But it's a good alternative if you need an inexpensive smartwatch that's compatible with Android and iOS.
Its 1.58-inch AMOLED display has a resolution of 336 by 336 pixels. And while its pixels per inch density is less than what the Apple Watch Ultra has, you still get clear details displayed on the screen.
Sense 2 comes with a 4GB internal storage, enough for downloading, storing, and running your favorite apps.
Unfortunately, Fitbit discontinued the option for onboard music storage. And as of March 31, 2023, you can no longer use music streaming services such as Deezer, Pandora, and Spotify with any Fitbit model.
So if you want to create, customize, and listen to music from your wrist, check out the smartwatches that can play music.
On a positive side, Sense 2 helps you focus your health and fitness by giving you the tools you need to improve your wellness.
For example, you can use Fitbit Sense 2 to detect and manage stress, track your daily activities, get sleep insights to help you improve the quality of your sleep, and even use the built-in GPS system for route mapping.
And it doesn't matter whether you're a serious athlete or a fitness wannabe. Fitbit Sense 2 has a Daily Readiness Score feature, which helps you to determine whether it's a perfect time to exercise or focus on recovery instead.
Like Versa 2, the Fitbit Sense 2 features a water-resistant rating of 5 ATM, which means you can swim with it even in the deepest swimming pool on the planet. While in the pool, this smartwatch will track your swimming activities and provide your report in the companion app.
Pros
It has a decent battery life of up to 6 days on a single charge.
Sense 2 boasts of a solid construction, a waterproof design, and a fast and responsive screen.
It includes Google Maps, which is useful for getting directions.
Cons
It has a poor battery life in GPS mode.
This smartwatch no longer supports music streaming.
Many of Fitbit Sense 2 useful features require premium subscription.
Final Thoughts
Apple Watch may not have a strong rival in the wearable space. But the alternative options that exist are just as good.
There are at least three reasons why it makes sense to buy something else other than an Apple Watch:
Apple Watches are expensive and therefore unsuitable if you're on a tight budget.
Every Apple Watch, with the exception of the Ultra at least, has a poor battery life. Unless tweaked for battery optimization, it's unlikely that Apple Watches can last more than a day on full charge.
Apple locks its tech to its ecosystem. Its watches can only work with iPhone.
If Apple Watches were affordable and cross OS compatible, they'd probably rule the wearable world 100% give or take. But every market will always have a competitor, hence the need for the best Apple Watch alternatives.