Apple Watches are rugged in design, with every new model being tougher than the last. But as durable and hardy as they look and feel, it doesn't mean your model is indestructible. That's why you need the best cases to add a layer of protection onto your Apple Watch.
The best Apple Watch case to get is one that features a rugged design with a tempered glass screen protector. It should also be lightweight because you don't want to add unnecessary weight on your wrist.
To be abundantly clear:
Apple doesn't make and sell cases for its smartwatches. So, you won't find these in our Apple Watch accessories list.
Every case designed for the different Apple Watch series come from third-party brands. And they're just as good, as they would be if they came directly from Apple.
So, let's look at what options you have.  
Element Case Special Ops Band and Case
MONOCARBON Carbon Fiber Case
Catalyst Waterproof Apple Watch Case
URBAN ARMOR GEAR Scout Case
Belkin ScreenForce Bumper
Caseology Nero Case
Spigen Rugged Armor Case
Spigen Thin Fit 360 Case
LifeProof Eco-friendly Case
Best Apple Watch Cases to Protect Your Smartwatch
Get one of these top cases and add a protective layer to your Apple Watch:
1. Element Case Special Ops Watch Band and Case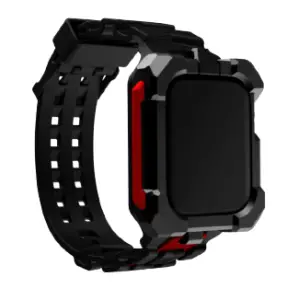 Add a layer of style and rugged look to your Apple Watch with Element Case Special Ops Watch Band and Case. It's lightweight and soft to touch, with a tough, heard wearing exterior design that can keep your smartwatch in shape for months.
Available in 41 and 45mm sizes, this case is specifically for the Apple Watch Series 7 and 8.
I particularly love this case because of the screen barricade. Its strong bezel creates a strong barrier between the smartwatch display and external surfaces. And that means more screen protection – even when you least need it.
While it's lightweight and comfortable, appears bulky, which might be a deal breaker for some Apple Watch users. It also makes connecting the watch to a third-party charger a bit of an elbow grease.
2. MONOCARBON Real Carbon Fiber Snug Case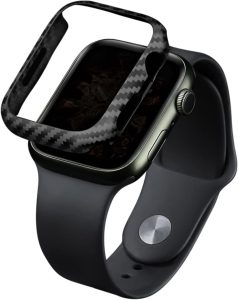 Add a layer of protection to your Apple Watch Series 7 or 8 with the MONOCARBON Real Carbon Fiber Snug Case. While it's soft to touch, this case is strong enough to protect your smartwatch's Ion-X glass from cracks and scratches.
This case weighs just 0.7 grams, making it one of the most lightweight options out there. Attach it onto your Apple Watch S7 or S8, and you'll barely notice that it's there unless you look.
3. Catalyst Waterproof Apple Watch Case
Consider Catalyst Waterproof Apple Watch Case if you spend most of your time around the pool or at the beach.
For just under $100, what you get from Catalyst is a military grade, rugged case strong enough to protect your Apple Watch S7 and S8 (of sizes 44, 41, and 49mm) from shock and scratches.
Designed based on the IP68 standards, this waterproof case can stand up to water depth of up to 100 meters. And that means it can significantly reduce the water pressure exerted on your Apple Watch if you use it underwater.
I love how Catalyst goes the extra mile to optimize this case for performance. At least the screen retains its touch sensitivity, the side button presses smoothly, and the Digital Crown is easy to rotate.
Of course, Catalyst waterproof case may look bulky to some people. But it's so lightweight and comfortable you won't notice you're wearing it until it's time to read your Apple Watch. 
4. Urban Amor Gear Military Bumper Case
Go for the Urban Amor Gear Military Bumper Case if want a smartwatch cover that meets military standards for durability.
It goes for only under $20. And while it's a budget case for sure, its lightweight built with a durable PC exterior offers just enough protection against scratches.
You'll love how easy it is to attach onto the watch and remove. The only downside is that it's compatible only with the 45mm Apple Watch Series 7 and 8. 
5. Belkin ScreenForce Apple Watch Case
In theory, your Apple Watch doesn't need additional protection because it's made of tough, rugged material. But that doesn't mean it's foolproof from scratches and damage.
So, adding one more layer of protection can go a long way to keep your investment in good condition.
And what's a better way to keep your Apple Watch from cracks and scratches than with the Belkin ScreenForce Case?
What I love about this Apple Watch case is the inclusion of a built-in screen protector with a special coating that protects the smartwatch from fingerprints and smudges. Of course, your watch's screen sensitivity remains the same after attaching the Belkin ScreenForce Case onto the watch.
As for compatibility, this case fits Apple Watch Series 4, 5, 6, 7, 8, and Apple Watch SE of sizes 44 mm and 45 mm.
6. Caseology Nero Band and Case
Caseology Nero Band and Case is a decent option to get if you want to spend less on a case and bands for your Apple Watch.
What Caseology brings you for less than $15 is a case that features a slim profile with a cool matte finish. The case is so flexible that it fits Series 4, 5, 6, 7, and SE, provided they are of sizes 40mm and 44mm.
The inclusion of Apple Watch bands is, in my view, a strong selling point for this combo. These bands are made of rubber, and they're so comfortable that you can swap and wear them for long hours.
7. Spigen Rugged Armor Watch Case
I've included the Spigen Rugged Amor Watch Case here because it has raised bezels that can protect your Apple Watch's screen from damages. Its shock absorbent layer can take the most hit from an accidental fall, thus keeping your smartwatch in good shape.
Spigen put ease of use into consideration during the design phase of this case. Every button should be accessible, the Digital Crown should rotate freely, and even the screen should be responsive.
For compatibility, this rugged case is a good fit for Apple Watch Series 4, 5, 7, 7, SE, and SE 2 of sizes 44 to 45 mm.
8. Spigen Thin Fit 360 Apple Watch Ultra Case
If you're in the market for a case designed specifically for Apple Watch Ultra 49 mm, get Spigen Thin Fit 360 Case.
Spigen Thin Fit 360 case features a screen protector made of 9H tempered glass.
The protector adds an additional layer of glass to the flat sapphire front crystal of your Apple Watch Ultra, which in turn offers additional protection against cracks and scratches.
And even with the glass protector attached, your Apple Watch Ultra should retain its initial touch response.
There's a fine cutout around the speaker, so you don't have to worry about sound blockage. Also, the buttons protrude out of the case for easy access and control.
9. LifeProof Eco-friendly Watch Case
If you're looking for a sporty and sleek case for Apple Watch Series 7 or 8, the LifeProof Eco-friendly Case might be a good option.
Made from recycled ocean plastic, this smartwatch case is slim yet strong enough to protect your Apple Watch from scratches and cracks often caused by accidental drops.
It's available in black, green, grey, and purple. So if you love your Apple Watch looking fancy, too, picking a color that blends well with your personalization can go a long way.
This eco-friendly case fits 41 and 45 mm watches, it's easy to install, and it makes the watch feel snug after attachment. And given that it's available for under $20, you might want to try out first if you're on a tight budget.
Final Thoughts
I can't guarantee that the best Apple Watch cases will make your smartwatch 100% indestructible.
But I'm confident that they can prevent damages to the casing and the screen, so you can use the watch for the longest time possible. 
The one thing I love about cases is that they aren't even expensive.
All my recommendations are under $100, which means they're accessible whether you're on a tight budget or not. And each option can go a long way to keep your Apple Watch in good shape.