I've held Fitbit in high esteem for nearly half a decade, but this is not the only brand that produces performance-based fitness trackers and smartwatches. There are alternatives brands that compete with Fitbit to give you the best value for the money. 
Some notable options that work like Fitbit include Apple Watch Ultra, Whoop Strap 4.0, Garmin Forerunner 945, Samsung Galaxy Watch 5, BellaBeat, and Amazfit GTS4 Mini Smartwatch.
Some of these models aren't one-on-one alternatives, but they're good if you wish to wear something else other than a Fitbit.
Best Fitbit Alternatives Compared
The following table is a comparison of some of the more refined, performance-optimized fitness trackers and smartwatches that you can buy instead of a Fitbit.
| | | | |
| --- | --- | --- | --- |
|   | Apple Watch Ultra | Samsung Galaxy Watch 5 | Garmin Forerunner 945 |
|   | | | |
| Display | 49mm, touchscreen, 502 x 410px | 1.2″ Super AMOLED touchscreen, 396 x 396px | 1.2" LCD touchscreen, 240 x 240px |
| Battery Life | 36 hours (normal mode), 60 hours (power mode) | Up to 50 hours | Up to 14 hours, 10 hours GPS + Music, 60 hours UltraTrac mode |
| Waterproof | 5 ATM | 5 ATM | 5 ATM |
| NFC | Apple Pay | Samsung Pay | Garmin Pay |
|   | Check Price | Check Price | Check Price |
6 Best Fitness Trackers and Smartwatches that Work Like Fitbit
There are over 25 alternatives to Fitbit on the market right now, but some models aren't good enough to deserve a mention.
Among these are high-end options packed with premium features that make them worth the price.
Some aren't well made or optimized for performance, so they may not be worth spending money on.
The options I'll look at in this roundup review are:
Apple Watch Ultra
Whoop Strap 4.0
Garmin Forerunner 945
Samsung Galaxy Watch 5
BellaBeat
Amazfit GTS4 Mini Smartwatch
1. Apple Watch Ultra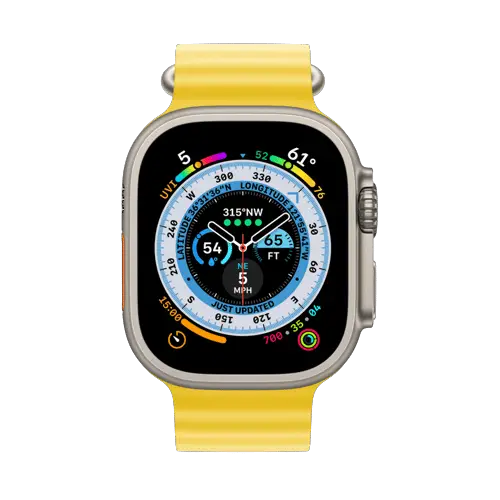 It may be pricier than the cost of three Fitbit Sense 2 combined, but the Apple Watch Ultra is a beast equipped with a ton of features enough to justify the price.
From a design standpoint, the Apple Watch Ultra is a tougher build that can do well in a constant active environment.
And while it's battery runtime, which stands at 60 hours at most in standard mode on a single charge, isn't the best in the niche, this smartwatch is undoubtedly superior to a Fitbit.
There's been a tweak on the model's display. At 49mm, the Apple Watch Ultra's scratch resistant screen is the largest ever made by the brand.
I would rank this number 1 on the visibility index.
Because, with its 410-pixel resolution and 2,000 nits of brightness, the details on the screen appear clear even under bright sunlight.
Add to this the WayFinder Face, which turns on the night mode for a better viewing in low-light condition, and what you get for the price is a Fitbit alternative that doesn't cause eyestrains.
I already did an in-depth comparison between Fitbit and Apple Watch based on different aspects, including performance.
The short version is that with Apple Watch Ultra, you can track metrics such as steps taken, distance covered, and total pace.
You can even use the onboard GPS system to map routes when running hiking, or driving.
Like Fitbit, the Apple Watch Ultra can track sleep, monitor heart rate, and detect screen temperature, making it an ideal alternative for iPhone users.
Starting from Series 3, all Apple Watches are water-resistant up to 5 ATM.
The Ultra has the same rating, and when in the pool, it can monitor and record swimming laps, strokes, and distance.
Pros
Has the biggest display
Supper clear
WayFinder Face integrated to activate night mode for better vision in low light conditions
Can go deep into water by up to 50 meters deep
Cons
It is expensive
Battery Life is still unsatisfying
2. Whoop Strap 4.0
Whoop 4.0 is an option to consider if you don't mind using a monthly or annual subscription plan to keep check on your health and fitness vitals.
This fitness tracker may not have a huge following per se, particularly because it doesn't have a screen.
But you get the strap without paying a dime if you become a paid member. And there's a lifetime warranty attached to the tracker as long as you keep your subscription plan active.
I've equally done an in-depth comparison between Whoop and Fitbit. And the one thing that stands out is that they share some similar features.
What you'll love about Whoop 4.0 is how quickly you can adapt to it. It provides you with personalized insights on your strain, recovery, and sleep.
The strap goes even further to check your health by monitoring vitals such as heart rate, skin temperature, and oxygen level.
Whoop can't go in the swimming pool. But that's fine because an IP6 rated fitness tracker isn't fit for water sports anyways.
One noticeable feature enabled on Whoop strap 4.0 is the in-depth sleep tracking.
Fitbit does show your sleep stages in the app. However, if you want to see a more detailed analysis of your stages, you'll need Fitbit premium subscription.
With Whoop, you can access to the analysis at no extra cost, as long as you have an active subscription.
Pros
You get the fitness tracker at no cost you subscribe to a membership
It provides personalized insights
Whoop has a decent, 5-day battery life on a single charge
Cons
It doesn't have a display
You can't use Whoop without subscription
The strap can't go in the swimming pool
3. BellaBeat Leaf Urban Smart Jewelry Health Tracker
BellaBeat Leaf Urban stands out as a sleek and lightweight wrist wear for women.
In addition to acting as a jewelry to spice up your outfit for occasional dinner dates or everyday outfit, BellaBeat Leaf Urban lets you take control of your health and fitness just as a Fitbit does.
Like Whoop Strap 4.0, BellaBeat Leaf Urban doesn't feature a screen display.
It's so easy to mistake it for a stylish bracelet, but underneath lies a technology that allows you to take charge of your health.
If you're looking for an alternative to Fitbit Versa 2, this just might be what you need.
Why?
Because BellaBeat Leaf Urban enables you to monitor your monthly cycle.
From the app, you can see your daily activities, stress levels, and sleep patterns depending on your day.
The battery life is decent.
Designed to run for six months, the replaceable battery can service you for longer. So you don't have to worry about frequent recharge.
Pros
Excellent battery life
Tracks menstrual cycle
Cons
It doesn't feature a display
The model isn't water-resistant
4. Garmin Forerunner 945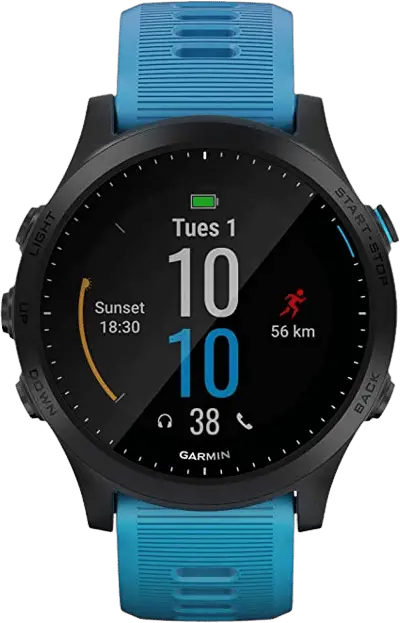 Garmin focuses on prime design, and the Forerunner 945 is an example of the best smartwatch that places more premium on your wrist.
It comes in black.
And while it would have been more aesthetic to have multiple color options, the monochrome bezel and strap still merges well with most outfits.
Like the Apple Watch Ultra, the Forerunner 945's 1.2-inch display is a 240-pixel, which offers clear visibility on the screen.
If you want to track recovery time, measure VO2 max, check altitude acclimation status, get training load focus, as well as benefit from aerobics and anaerobic training effects, the Garmin Forerunner 945 is the Fitbit alternative to get.
When it comes to entertainment, you have the option to link the Garmin to Airpods and play the music stored in the built-in memory.
You can equally add music from multiple streaming services such as Deezer, Amazon Music, or Spotify, which is an option that Fitbit doesn't offer.
Like Fitbit Sense, Charge 4, and Versa 3, the Garmin Forerunner 945 includes on onboard GPS. In addition is map integration, which is helpful while running or cycling.
With Garmin Forerunner 945, you can leave cash or cards at home and make payments with the Garmin Pay contactless payment technology.
The battery runtime on a single charge is quite decent. You get up to 14 days on the standard mode, about 60 hours on UltraTrac mode and up to 10 hours if you have the GPS system activated. 
Pros
You don't have to take it off to get in the shower or swimming pool
Garmin Forerunner 945 allows you to make contactless payments
It is compatible with both Android and iOS
Longer battery runtime in power saving mode
Can store and play music
Cons
It's an expensive smartwatch
Short battery life on GPS and music mode
5. Samsung Galaxy Watch 5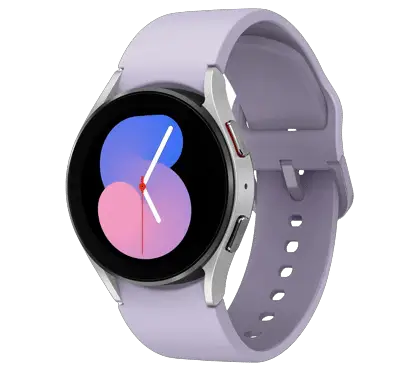 The Samsung Galaxy Watch 5 may be expensive than every Fitbit model on the market.
But it's a good alternative to consider if you're looking for a smartwatch with better features. 
Running on Google's Wear OS, the Samsung Galaxy Watch 5 can track your sleep and even analyze sleep stages, elevation, blood pressure, calories burned, heart rate, and so much more. 
Both Fitbit and Samsung Galaxy Watch 5 have pre-included exercises, but the difference is in the number.
With Samsung Galaxy Watch 5, you can manually track over 90 exercises, including running, swimming, cycling, and walking.
There's also the auto workout tracker built into the watch, so it can start to log workouts on your behalf if you forgot to do a manual input.
You can take advantage of the onboarding, enhanced GPS tracker to monitor your routes, pace, and distance while running, walking, or cycling.
The battery runtime on a single full charge is going to disappoint you, though.
It lasts only about 50 hours, which is far lesser than what you get from any of the latest Fitbit model.
Pros
Details on the display are clear
Feels lightweight and comfortable
Feature NFC for making contactless payments
Can track swimming workouts
Auto detects activities
Cons
It has a poor battery life
The watch is expensive
6. Amazfit GTS4 Mini Smartwatch
Amazfit GTS4 is a masterpiece for its price point.
Built to run on Zepp OS, this iOS and Android compatible smartwatch features a 1.65-inch OLED touchscreen display with a good level of clarity.
Its compatibility with Alexa is a plus for its price point.
Just imagine the possibility of issuing voice commands, doing searches, and possibility getting translations right from your wrist.
Add to this the ability to access additional apps with the tap of the screen, and what you get is a mini smartwatch that can probably enhance your daily life.
As for health and fitness tracking, the Amazfit GTS4 Mini Smartwatch can monitor your heart rate, oxygen saturation in the blood, and stress levels.
It's also an inexpensive alternative to Fitbit because it can monitor your sleep and give you an analysis of the same.
For workouts, the Amazfit GTS4 can track cycling, running, walking, and yoga – just to mention a few. Notably, you get up to 120 sports modes.
Pros
Waterproof up to 5 ATM to use in pool and open water swimming
Its 270mAh battery can last for up to 15 days on a complete charge
Battery life extends to 45 days on power-saving mode
Integrated female cycle tracking
Cons
Bluetooth calling not supported
Possibility of software bugs
Final Thoughts
To be fair, I don't believe Fitbit is the only brand that designs the best fitness trackers or the best smartwatches.
Even the lesser and well known competitors have something in store for you, and often at high-end and cheaper prices.
If the option you're considering can count steps, track sleep, estimate calories burned, monitor your heart rate, check your blood oxygen level, and detect skin temperature, you're good to go.