Are you looking for Google Fit compatible watches to track your health and fitness? You've come to the right place.
Here's the deal:
Google Fit may not be as popular as the Samsung Health. But it's no doubt one of the most downloaded health and fitness apps for Android and iOS.
While you can use it as a standalone entity, Google Fit also connects with some smart devices and allows you to track, log, and analyze your health and fitness metrics.
Here are some of the best smartwatch options that work well with Google Fit:
Polar Watch
Amazfit Band 7
TicWatch Pro 3
Samsung Galaxy Watch 5
Google Pixel Watch
5 Best Google Fit Compatible Watches Explained  
The following is a summary of my favorite gadgets that are compatible with compatible with the Google Fit app:
1. Google Pixel Watch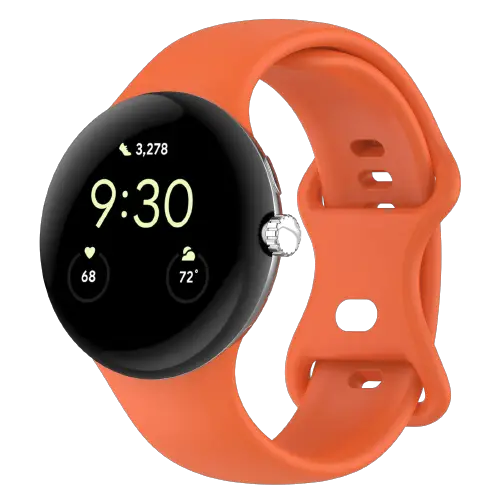 To the best of my knowledge, Google is working to position the Pixel Watch as the pioneer product in its wearable category. That's so even after acquiring Fitbit in November 2019.
Powered by Google's Wear OS, the Pixel Watch features a clear, vibrant, and responsive display that feels soft to touch.
Google Pixel Watch monitors heart rate, tracks sleep, counts calories, plays music, connects to Nest devices, and so much more.
With a runtime of 40 hours on a single charge, the Google Pixel Watch doesn't beat Fitbit Versa 3 on batter life. But the model is still a good choice if you want to enjoy a Wear OS ecosystem, particularly if you don't find charging the smartwatch after a day or two intimidating.
The smartwatch doesn't have the Google Fit app pre-installed. However, you can download it from Google Play Store and start using it right away.
Update your Wear OS app.
Set up Google Pixel Watch if you haven't already.
Install Google Fit on the watch and your Android smartphone. 
Go to app menu on the watch and select Google Fit.
Proceed with the setup by tapping the arrow you see.
Choose the Google Fit account you want your data to sync to.
Allow Google Fit to access the sensor data on your watch.
And that's all there is to it.
Your Google Pixel Watch will now sync your health and fitness data to your account.
2. Samsung Galaxy Watch 5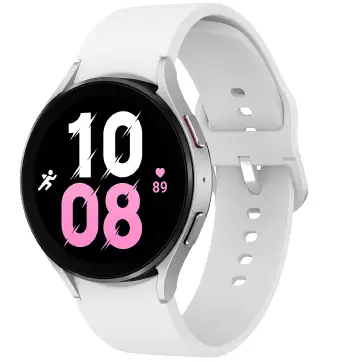 Samsung Galaxy Watch 5 doesn't look any different from its previous model.
It retains the exact appealing design of the Galaxy Watch 4, a responsive digital bezel, and a bright display. Plus, the watch runs on Watch OS, which means you have access to a huge library of apps on your wrist.
The Galaxy Watch 5 also features noticeable improvements over its predecessor. The tweaks include a better battery life, a strong and responsive screen, and accurate sensors.
Because Wear OS powers the Galaxy Watch 5, you can access the Play Store, install Google Fit, and start using the app straight from your wrist.
Go to Play Store.
Search for Google Fit and install the app.
Launch the app and login with your Google account.
Start tracking your health and fitness activities with the watch.
Galaxy Watch 5 will log steps, movements, calories, miles, and heart points to the Google Fit app. You can track your everyday goals, monitor your weekly targets, check your last workout, and analyze trends.  
3. Polar Vantage M2 Multisport Smartwatch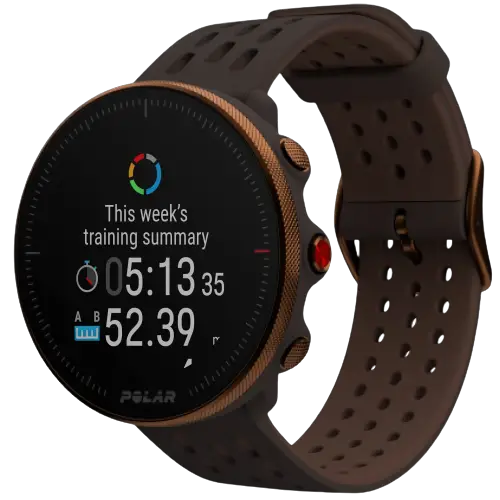 Are you a fitness enthusiast? You could use a smartwatch that includes tools built to help you optimize your performance.
The Polar Vantage M2 is such an option.
With it, you can track all-day activities, monitor your heart rate, analyze your sleep, and determine whether you should focus on recovery or working out. The key is in the stats you get from the watch.
If you want to see your Polar smartwatch performance stats on Google Fit, do the following:
Download the Polar Beat app from Google Play Store.
Create an account if you don't already have one.
Log in to your account.
Tap Menu and select Settings.
Find and tap Google Fit under the Settings option.
The last step is to allow the Polar Beat app the permission to share your health and fitness data with Google Fit.
4.  Amafit Band 7 Health and Fitness Tracker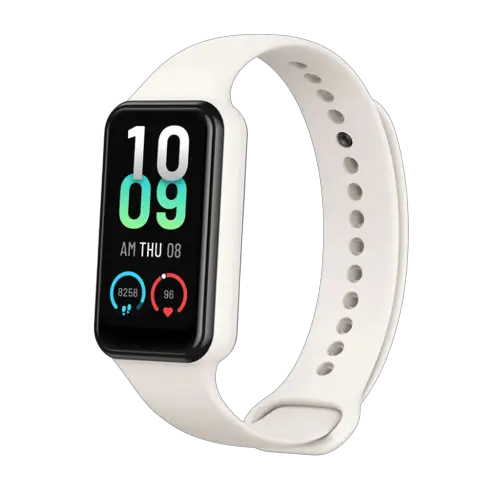 If you want an inexpensive fitness tracker that works with Google Fit, get yourself Amazfit Band 7.
There's more to this Google Fit compatible fitness tracker the sleek display.
With it, you can monitor heart rate, blood oxygen, sleep, breathing quality, stress, training effects, menstrual cycle, and recovery time.
Built into this fitness tracker are 120 sports modes, four of which support automatic workout recognition. That's more than enough to get you on an engaging fitness journey, provided you discipline yourself enough to set workout goals and work towards achieving them.
Amazfit Band 7 even supports push notifications, quick replies to texts, and media control.
If anything, you get so many features supposedly available only to high-end fitness trackers and smartwatches. So the Amazfit Band 7 is a win for you if you want to spend less for more.
In testing, you get up to 14 days of runtime on a single charge. Again, that's more than the typical runtime of many fitness trackers that money can buy.
And connecting this fitness tracker to Google Fit is a breeze:
Go to Google Play Store and download the Amazfit app.
Set up Amazfit if you haven't already.
In your Amazfit account, tap your Profile.
Select Add Account.
Choose Google Fit.
Tap Allow to confirm the connection.
5. TicWatch Pro 3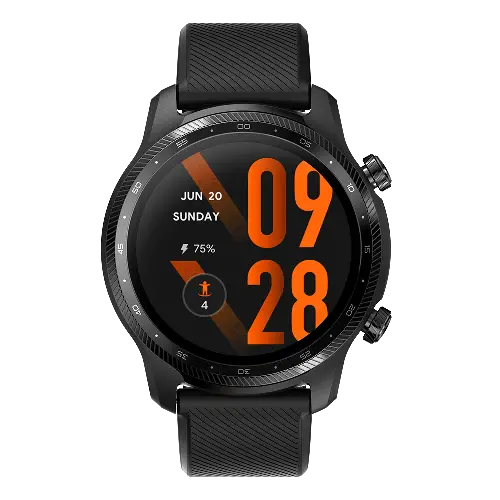 TicWatch Pro 3 smartwatch'sfirst impression gave us an "aha" moment because of its sleek design.
Mostly, and this is just how I see, the smartwatch gives the impression of a seemingly seamless blend of a vintage round design and modern computing technology.
This upgrade features a decent battery life, a good display, and smooth performance.
With TicWatch Pro 3, you can track sleep, blood oxygen levels, stress, and breathing rate.
To connect this smartwatch to Google Fit:
Download the TicHealth app and complete your set up.
Press and hold the Health Tile in the app.
Choose Google Fit.
Google Fit will now show on the TicWatch Pro 3's watch face, not in the Health app.
Frequently Asked Questions
1. Can You Link a Fitbit Directly to Google Fit?
You cannot connect a Fitbit fitness tracker or smartwatch directly to Google Fit.
Maybe in future Google will launch a feature that lets you do this. For now, you have to use another app to link the two together.
Check out my guide on linking Fitbit to Google Fit to learn more.
2. Is There a Garmin Watch that Works With Google Fit?
Again, there's no direct way to connect a Garmin smartwatch to the Google Fit app. However, there are workarounds that can get this to work.
For example, you can link Garmin Connect to Strava. Then, link Strava directly to your Google Fit account to access your Garmin watch data.
Final Thoughts
As you can see, the Google Fit app can connect and work seamlessly with a number of top wearable devices.
And by the way:
There's no right or wrong model to choose. What you buy comes down to your brand preference, desired features, and your budget.
I hope this helps.