Finding the best Fitbit for men doesn't have to feel like searching for a needle in a haystack.
Any available model can make the cut regardless of the price point, as long as it has the features that you're looking for.
I have the Fitbit Vera 2 myself and, in my experience, it's a good fit for men who need a combination of a fitness tracker and a smartwatch. This model can do a lot for you, including tracking steps, counting calories, mapping your location, and making NFC payments.
But Versa 2 isn't the only model that delivers a good combo of a fitness tracker and a smartwatch.
So, let's look at all the options that could be a good fit for you.
5 Best Fitbit Smartwatches and Activity Trackers for Men
Whether you're on a tight budget or you have the money to invest, one of these Fitbit smartwatches and fitness trackers may be a good fit for you:  
Fitbit Charge 4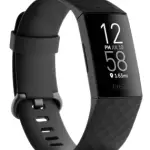 Positives
Get calls, texts, and app alerts
Safe for water use
Good for sleep, stress, and HR
Negatives
Boring monochrome display
Poor battery in GPS mode
Swim stats not present in the app
Fitbit Charge 5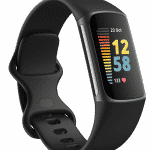 Positives
7-days battery life
NFC chip included for payments
Offers smart notification
Negatives
Brightness not easy to tone at night
Body temperature reader missing
Sometimes misses stairs climbed
Fitbit Versa 2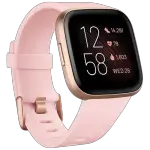 Positives
Lightweight with a premium display
Excellent battery life
NFC and Spotify music control
Negatives
Most features need premium plan
Not many smartwatch
1. Fitbit Charge 4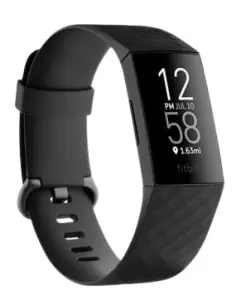 Fitbit Charge 4 is the most refined fitness tracker compared to the series that came before it.
It retains the rectangular display of Charge 2 and Charge 3, with a more vibrant, easy to navigate touchscreen display. You may find the black and white screen boring, but the brand hasn't shied away from making Fitbit Charge 4 the best it can be.
Focused wholly on health and fitness, Charge 4 lets you monitor heart rate, check blood oxygen levels, track sleep, manage stress, and track all-day activities.
Because Fitbit Charge 4 is safe for water use, with a resistant rating of up to 5 ATM, you don't have to take it off your wrist if you want to go swimming.
Furthermore, the device can track your swim workouts and show length, distance, pace, and duration of your swim activities. However, you won't see your swim stats in the app for this particular fitness tracker.
With fitness tracker, you never miss calls and text alerts as long as your phone is within range. You can even send quick replies to signal to the sender that you've received their message.
NFC is available on Charge 4, which is unusual considering that it's hardly a feature you'll find in a fitness tracker. But it's a decent integration nonetheless. Simply load your debit or credit card and tap to make payments wherever Fitbit pay is accepted.
Charge 4 doesn't have the best battery life. But a 4-day runtime on a single full charge is still fair for the price point.
Pros
Supports calls, texts, and app notifications
Safe for use in damp environments
Good for sleep, stress, and heart rate tracking
Includes NFC for contactless payments
Includes a built-in GPS
Cons
Monochrome display could be a deal breaker for some people
Poor battery runtime in GPS mode
Swim stats not integrated in the app
2. Fitbit Charge 5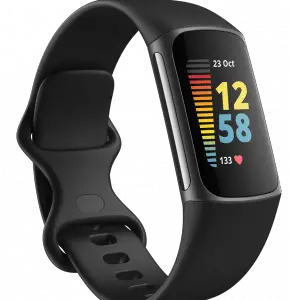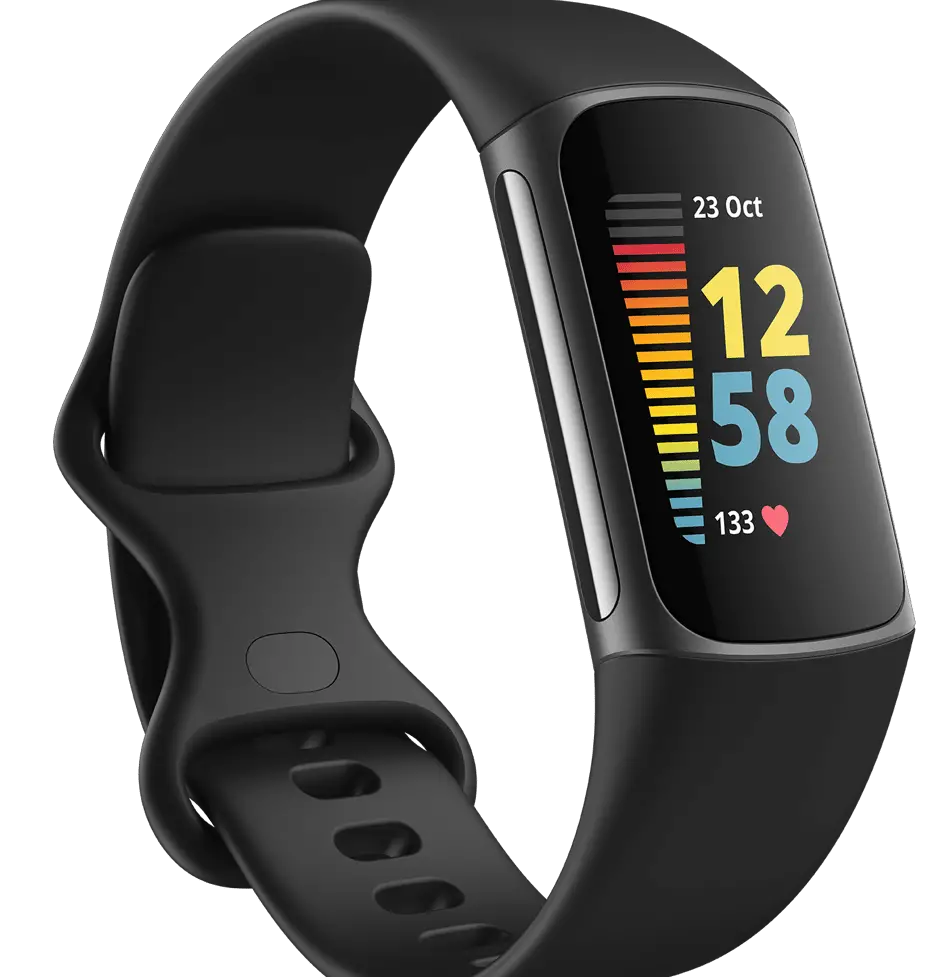 If you don't like Charge 4 because of the black and white display, get the Fitbit Charge 5.
Fitbit made some tweaks to this upgrade, beginning by introducing a colored screen and balancing the brightness levels for indoor and outdoor use.
However, the colored, touchscreen display isn't the be-all and end-all reason to get the Fitbit Charge 5 fitness tracker.
The model's core focus is on health and fitness. Designed to track an array of significant health vitals, including sleep score and active zone minutes, Fitbit Charge 5 can help you to develop useful and healthy lifestyle habits without the need for a personal trainer.
You even get 20 exercise modes, enough to get you moving, and easily shifting from a sedentary to an active lifestyle.
Like Charge 4, Fitbit Charge 5 is water-resistant enough to stand up to water pressure of up to 50 meters deep. And while you can't realistically swim to a depth that huge, the writing on the wall is that water can't easily destroy this device.
You can use this fitness tracker to track your swim activities. During this time, you'll see length, duration, distance, and pace from the watch. However, the only information available in the app (at the time of this review) is the swim duration.
Some smart features built into Fitbit Charge 5 include text and call notifications, silent alarms, and smart wake. It doesn't have Alexa or Google assistant, but it supports NFC, which means you can make contactless payments using the Fitbit Pay technology.
Pros
Works for 7 days straight on a single charge
NFC chip included for contactless payments
Offers smart notification
Good for swim workouts
Cons
It's hard to tone the brightness at night
No actual body temperature reader
Stairs climbed not always accurate
3. Fitbit Versa 2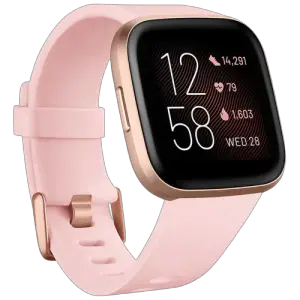 I've worn and used Fitbit Versa 2 every day for the last 6 months. While I consider it one of the best Fitbit for men, this smartwatch isn't without its limitations. With a weight of just 0.2 ounces, Versa 2 is the lightest smartwatch you'll ever wear.
It doesn't feature a built-in GPS, but it supports connected GPS, which means you must bring your phone with you if you want to map routes and track distance in real-time.
Because it supports Wi-Fi, you can get the latest Fitbit OS updates directly from the smartwatch instead of depending on the companion app. Also, you can use Wi-Fi to download some of your favorite Fitbit apps to the device.
Fitbit Versa 2 doesn't bring many smart features to the table. To me, it feels like a model heavily focused on health and fitness, which is still a good thing.
I use mine to monitor my heart rate, know how much calories I burn, count my steps, track my sleep, determine what distance I've covered during the day, and so much more.
The stats I get from the device aren't always constant even with the same duration and exercise intensity. So, I can't say that Fitbit is 100% accurate, but at least the data you get can be handy if you know how to use it.
One thing that Google has stripped from the watch's ecosystem, probably in favor of the Pixel Watch, is the ability to play music on Fitbit. The only option available is controlling music playing on your phone, which is quite disappointing.
Like Charge 3 and Charge 4, the Fitbit Versa 2 can track swim workouts. I haven't tried this extensively, but I noticed that I could only see the duration and length swam. You won't see track strokes, splits, or lap counts.
I do like the Fitbit water lock mode, though. And while it's obvious that the water-resistance of my Versa 2 will wear out over time, at least this mode ensures the inner components are in good working condition – for now.
Pros
Lightweight smartwatch with a premium display
5 to 8 days battery life in testing
Useful smartwatch, such as NFC and Spotify music control, features included
Timely notifications for text and calls
Cons
Email alerts are disappointing
No support for music storage and offline playback
Doesn't have as many smartwatch features as I initially expected
Need premium membership to access many of the cool features
4. Fitbit Sense Health & Fitness Smartwatch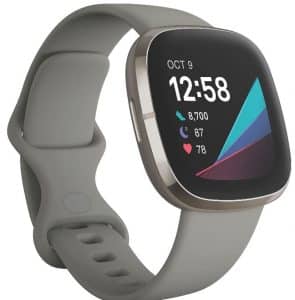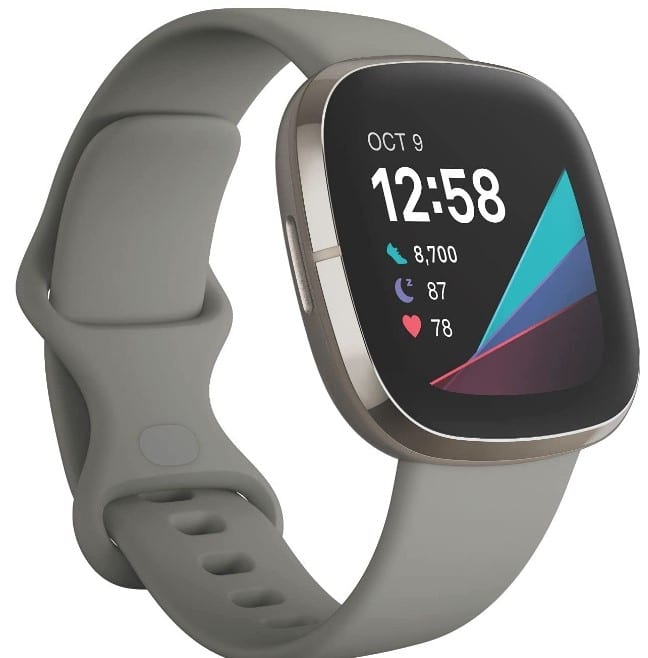 Perfection isn't a metric to consider when looking for a fitness tracker or a smartwatch, at least not in the case of Fitbit Sense.
But despite instances of inaccuracies here and there, especially when counting steps and stairs climbed, Sense is still a solid Fitbit for men who want more than what Versa 2 has to offer.
To begin with, Fitbit Sense does a decent job on health and fitness tracking.
For example, you can track sleep in stages, manage your body's response to stress, and get a daily readiness score, which you can use to determine whether you should focus on recovery or training.
The problem is: 
You need to have a premium subscription with Fitbit to access advanced health and fitness tools with Sense.
This health and fitness smartwatch features an on-board GPS, which lets you map your route and track total distance covered independent of your smartphone.
It's swim friendly, in both swimming pool and open water. You can use it to monitor length, duration, distance, and pace. But it isn't going to show your swim lap on the screen or in the companion app.
Fitbit removed support for music streaming on this device. Much as that's sickening, you can at least use Fitbit Sense to control music playing on your iOS or Android smartphone.
Again, Fitbit hasn't taken away the ability to add apps to this device. And you can even get texts, calls, and app notifications.
Pros
A 6-day battery life is decent
Includes on-board GPS
Swim friendly
Supports apps notifications
Cons
Terrible battery life in GPS mode
EDA sensors take too long to start collecting data
5. Fitbit Inspire 2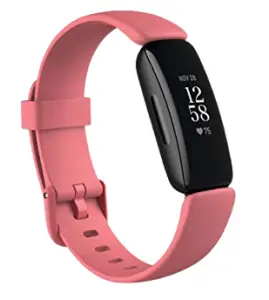 Fitbit Inspire 2 is the cheapest fitness tracker in the brand's lineup. So if you're on a tight budget need an affordable Fitbit model, this might as well make the cut.
To be clear, it's not the low price point that makes Fitbit Inspire 2 such a popular fitness tracker. It's what it can do at such an insanely low price.
Its display, which is in the form of a slightly bent rectangle, feels smooth to the touch and just as responsive as the original Inspire.
From a design and performance standpoint, Fitbit Inspire 2 is a model wholly focused on health and fitness tracking. With it, you can track steps, calories burned, breathing rate, resting heart rate, heart rate variability, and active zone minutes.
This fitness tracker is water-resistant, but you should look past it if you intend to track swim workouts. It won't track swim length, strokes, distance, or laps.
While I don't expect a fitness tracker to have the NFC chip, integrating a built-in GPS to the Inspire 2 would have made it such a powerful upgrade of the original. But the lack of it isn't a deal breaker given its price.
The battery runtime is great. On a single charge, you can get constant health and fitness updates for up to 10 days. 
Pros
Excellent battery life
Water resistant
Impressive performance on health and fitness tracking
Comes at a fair price
Cons
No built-in GPS 
Won't track swim workouts
Final Thoughts
Ultimately, the best Fitbit for men is a model that meets your needs.
If you just need a step counter with a heart rate monitor, a fitness tracker such as Fitbit Inspire 2 will make a good fit.
If you're in the market for a model that offers a good combination of a fitness tracker and a smartwatch, the likes of Versa 2 and Sense can make the cut.
I hope this helps.