Fitbit has curved a niche for itself as one of the best wearable brands in existence. And its effort to design smart models for women on the move speaks for itself.
Today, the best Fitbit for women can track menstrual health, monitor active and resting heart rate, help with stress management, determine sleep quality, and so much more.
So if you want to track important health, fitness, and workout vitals without the help of a personal trainer, a Fitbit can go a long way.
It doesn't matter whether you're a fitness wannabe or you're already into serious workouts. Fitbit has the right fitness tracker and smartwatch for you.
4 Best Fitbit Smartwatches and Fitness Trackers for Women
The best Fitbit for women come in different shapes, colors, sizes, and price points. Here are the models that I recommend:  
| | | | |
| --- | --- | --- | --- |
|   | Fitbit Luxe | Fitbit Versa 3 | Fitbit Inspire 3 |
| Tracking | Heart rate, sleep, breathing, steps, daily readiness score | Sleep, heart rate, breathing rate, movement, workout intensity | Sleep, steps, breathing, heart rate, daily readiness score |
| Sensors | Optical heart rate monitor, SpO2, temperature sensor, accelerometer | Heart rate monitor, infrared sensors for SpO2, accelerometer, altimeter | SpO2, Optical heart rate monitor, accelerometer, skin temperature sensor |
| GPS | Connected GPS | Built-in GPS | Connected GPS |
| Fitbit Pay | Not supported | NFC Chip Integrated | Not supported |
| Water Resistance | Up to 50 meters | Up to 50 meters | Up to 50 meters |
| Battery Life | Up to 5 days    | Up to 6 days    | Up to 10 days |
| Price | Check Latest Price | Check Latest Price | Check Latest Price |
1. Fitbit Luxe Fitness and Wellness Tracker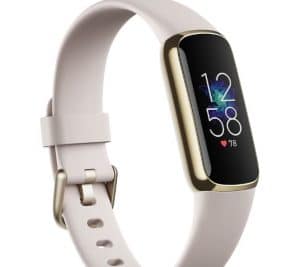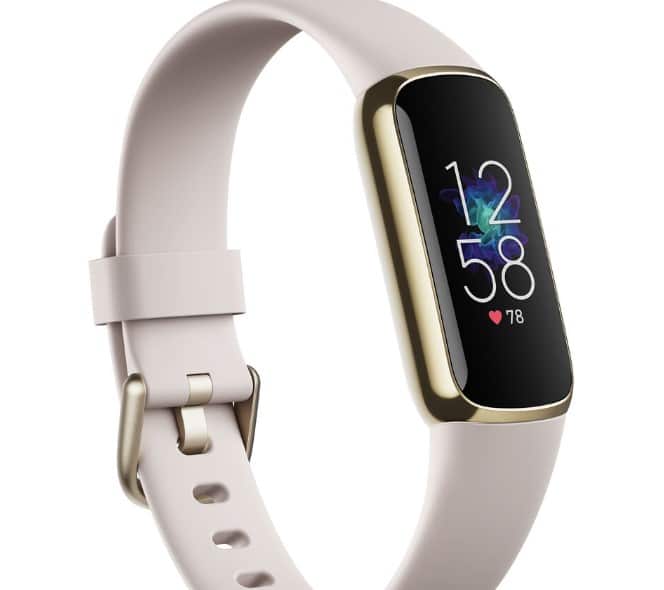 Fitbit Luxeearns a higher rating for a slim, colorful, aesthetic look.
At 0.92 ounces, Luxe is lightweight enough to wear all day. And in terms of pricing, it's a cheap fitness tracker for women who are on a budget.
The small display doesn't give enough room for unlimited watch face customization. But the screen real estate is sufficiently responsive to allow you swipe from stat to stat.
With Fitbit Luxe, you can track sleep, heart rate variability, calories burned, breathing rate, and stress levels. The stats you get go a long way to help you manage your health.
There are 20 exercise modes built into the watch. And while that's not a lot in a practical fitness tracker ecosystem, it's still good enough to get you training, building stamina, and improving your overall well-being.
This Fitbit is safe in water, so you can even use it for swimming. However, it doesn't give you much for this, as the only metric it gives you is how long you swam.
It doesn't include an on-board GPS. But you can use it with your smartphone's GPS to get real-time pace and distance right from your wrist.
Pros
5 days battery life on a single charge
Stylish and customizable
It gives accurate sleep insights
Supports calendar, calls, text, and apps notifications
Cons
Heart rate is not always on point
No on-board GPS integration
2. Fitbit Sense Health and Fitness Smartwatch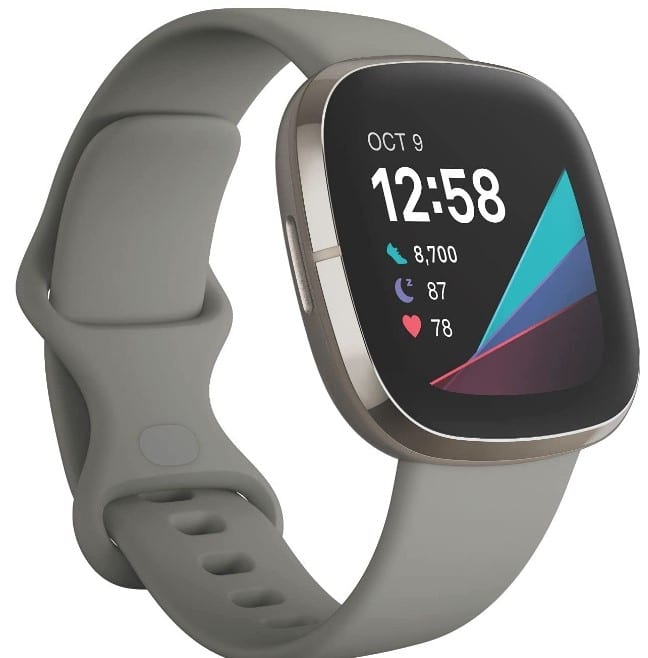 Fitbit Sense may not be the perfect smartwatch we thought it would be after launch. For example, several tests show that there are instances when step count and stairs climbed aren't accurate.
However, it's still a good wearable from the brand's lineup for women who need a combo of a fitness tracker and a smartwatch.
Its display is almost thrice the size of Fitbit Luxe, so you get a bigger screen to see more stats on your wrist. With access to a library of cool watch faces, you can customize the screen to look and feel more personalized.
If you're going to get Fitbit Sense, do it for the simple reason that it's a good health and fitness tracker and less of a smartwatch. Built into it are sensors that let you track your heart rate, calories burned, sleep, stress, and blood oxygen levels.
You may find it handy when it comes to swim workouts, as it has the same water-resistance rating as the Luxe does. While it won't monitor your laps, at least you get length, duration, distance, and how fast you swim.
Some smart features found in Fitbit Sense include a built-in NFC chip, which allows you to make contactless payments and GPS, which you can use to monitor your pace and distance.
Expect a runtime of 4 to 6 days on a single charge depending on frequency of use and activated features. You should get at most 9 hours of battery runtime in GPS mode.
Pros
Make contactless payments where Fitbit Pay is accepted
Large display lets you see more stats on the screen
EDA sensor can be useful for stress management
Allows text replies and responses to calls
Cons
Not as refined as Fitbit Sense 2
Poor battery life in GPS mode
EDA tends to delay to collect data 
3. Fitbit Versa 3 for Women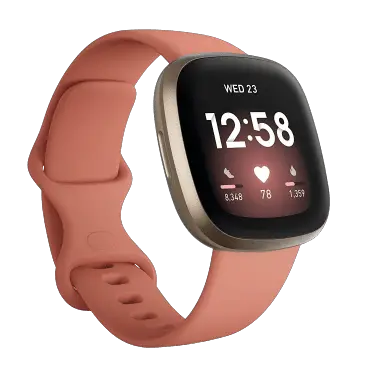 If you need an inexpensive Fitbit that offers a good combo of a fitness tracker and a smartwatch, grab the Fitbit Versa 3.
This one boasts of a decent battery life, a built-in GPS, a bright AMOLED display, a mic and a speaker, easy to swap bands, an advanced sleep tracker, and tens of custom watch faces.
Versa 3 ticks all the boxes for health and fitness tracking.
With it, you can check blood oxygen levels, calories burned, skin temperature, steps, and heart rate. Furthermore, the inclusion of 20 sports modes, including swimming, gives you the flexibility to train more and build the physically fit you.
The Daily Readiness Score is worth a mention. Like Whoop Strap 4.0, Fitbit Versa 3 uses heart rate variability, activity, and sleep information to determine whether you should focus on rest and recovery or workout.
If you're someone who likes to map her run, Fitbit Versa 3 built-in GPS lets you do that. But it can take somewhere between 3 to 5 minutes for it to lock on a GPS signal.
With the built-in speaker and mic, you can receive and respond to calls right from your wrist. There's also the option to send quick replies to text. And you can connect to Bluetooth headphones if you want to, although I don't see the point in doing so as Fitbit doesn't play music anymore.
The inclusion of NFC chip is an added advantage, as you can use Fitbit Pay to make payments wherever it's accepted.
Pros
3 to 6 days battery life depending on use
Onboard GPS for mapping routes
Colored, always-on display
Includes Amazon Alexa and Google Assistant
A good Fitbit for sleep tracking
Can track swim workouts
Cons
Heart rate and altimeter could use some refining
Replies available only on Android
Short runtime in GPS mode
4. Fitbit Inspire 3 Health and Fitness Tracker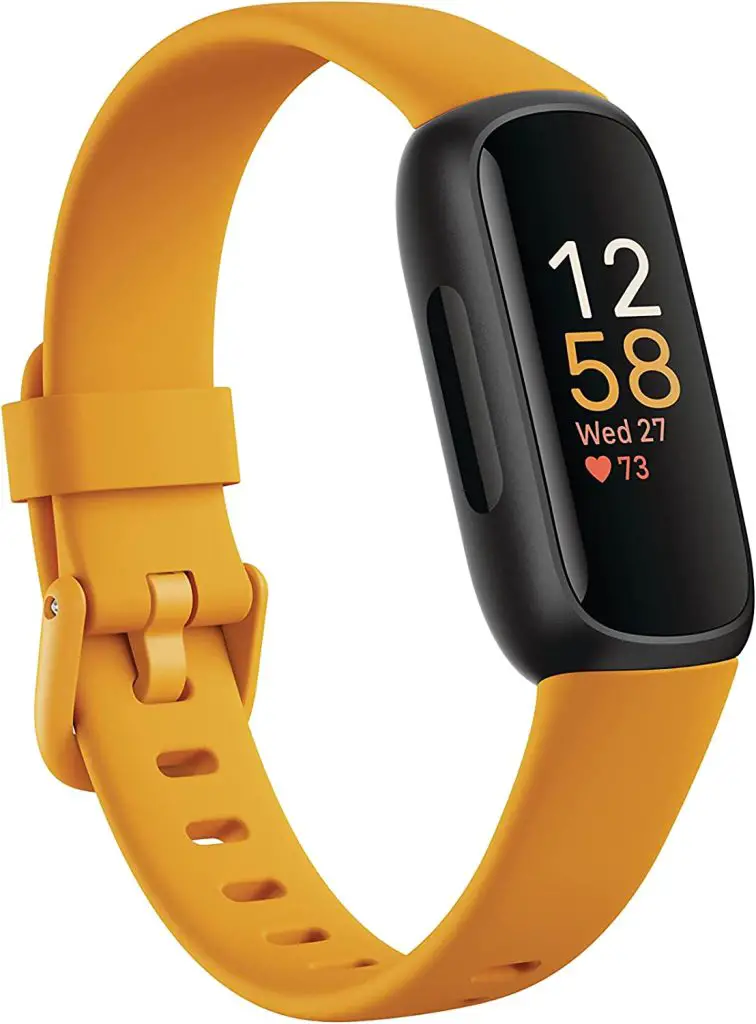 Fitbit Inspire 3 is an inexpensive fitness tracker in the brand's Inspire lineup, and it's a good option if you need a lightweight model that focuses on health and fitness.
It features a shape almost similar to Fitbit Luxe, a clear display that's soft to the touch and fully responsive, and tiny colored texts that appear against a black background.
You can set the screen brightness to dim, normal or maximum. And the built-in ambient sensor automatically adjusts brightness based on light condition for easy visibility.
With Inspire 3, you can track all-day activities, including steps, bike rides, sleep, and swimming. Additional stats include distance covered, active zone minutes, and heart rate.
Like Fitbit Versa 3, the Inspire 3 gives you a daily readiness score, accessible via the companion app. Depending on your score, which you get only in the morning when you wake up, you can focus on exercise or sleep and recovery.
It doesn't have a built-in GPS. But you can use the connected GPS if you want to track pace and distance, or map your routes.
You can customize text, calls, and app alerts, which is something typical with all Fitbit models. But that works provided your smartphone and Inspire 3 are in range.
Pros
Decent battery life on a single charge
Water resistant enough to track swim workouts
Focused on 100 health and fitness tracking
Cons
No built-in GPS
Tiny text with no  option to increase size
Some stats aren't accurate 100% of the time
Final Thoughts
Fitbit has designed different series of fitness trackers and smartwatches since 26 March 2007. And it has been the brand's tradition to make every new model better than the first.
However, given that perfect is a subjective term when it comes to wearable devices, the best Fitbit for women may be one or the other model depending on whom you ask.
At the end of the day, consider your budget and your needs first. Then, choose a Fitbit that meets your expectation and roll with it.