You'll need two things to set up a Fitbit for the first time or after doing a factory reset: the companion app and the tracker or smartwatch.
And to be clear, the set up process is the same for all Fitbit models. Whether you have Charge 5, Sense 2, Inspire 3, or Luxe, you should follow the same steps to get started.
In this guide, I show you how to set up your Fitbit, step-by-step.
I've made this guide as short and simple as possible. It should help you to spend less time pairing the device to the companion app and get you started with monitoring the metrics that matter.
Let's get to it.
How to Set Up a Fitbit Step-by-Step (In Under 10 Minutes)
Setting up your Fitbit device is the second step to complete after getting yourself the fitness tracker or smartwatch.
This process is necessary to allow the sharing of fitness data from the tracker or smartwatch to your Fitbit account.
Then, you can analyze the shared data to understand your performance and determine where you should improve based on the available metrics.
How to Set Up a Fitbit on Your Phone
Fitbit works with iPhones and Android because the companion app is cross device compatible.
And because the set up process is straightforward, it should take you less than 10 minutes to get started with your new Fitbit device.
On the next screen is a list of all the Fitbit models, from the old Fitbit One to the latest Google Pixel Watch. 
Select the Fitbit model that you current have and tap the Set Up button.
On the next screen, enter the email and password that you'd like to use with Fitbit.
Accept the Terms of Service.
While you must accept Fitbit's Terms of Service to get started, feel free to skip updates on products, news, and promotions.
Check your email for Fitbit verification message and click on the link sent to you to confirm your account.
Go back to the Fitbit companion app and tap "Next".
A popup with Fitbit Privacy Policy will show, to which you should tap the 'Agree" button.
From this point, Fitbit will direct you to the "About You" page, where you'll fill out your height, weight, gender, and date of birth.
Tap "Create Account" button once you fill out the details.
Opt-in for the 90-day premium trial if you would like to explore the offer.
And that's it.
You've completed setting up your Fitbit device to the companion app, and you're now ready to start monitoring your health and fitness.
How to Set Up Your Fitbit on Your Computer
You can also use your laptop or desktop computer instead of your smartphone.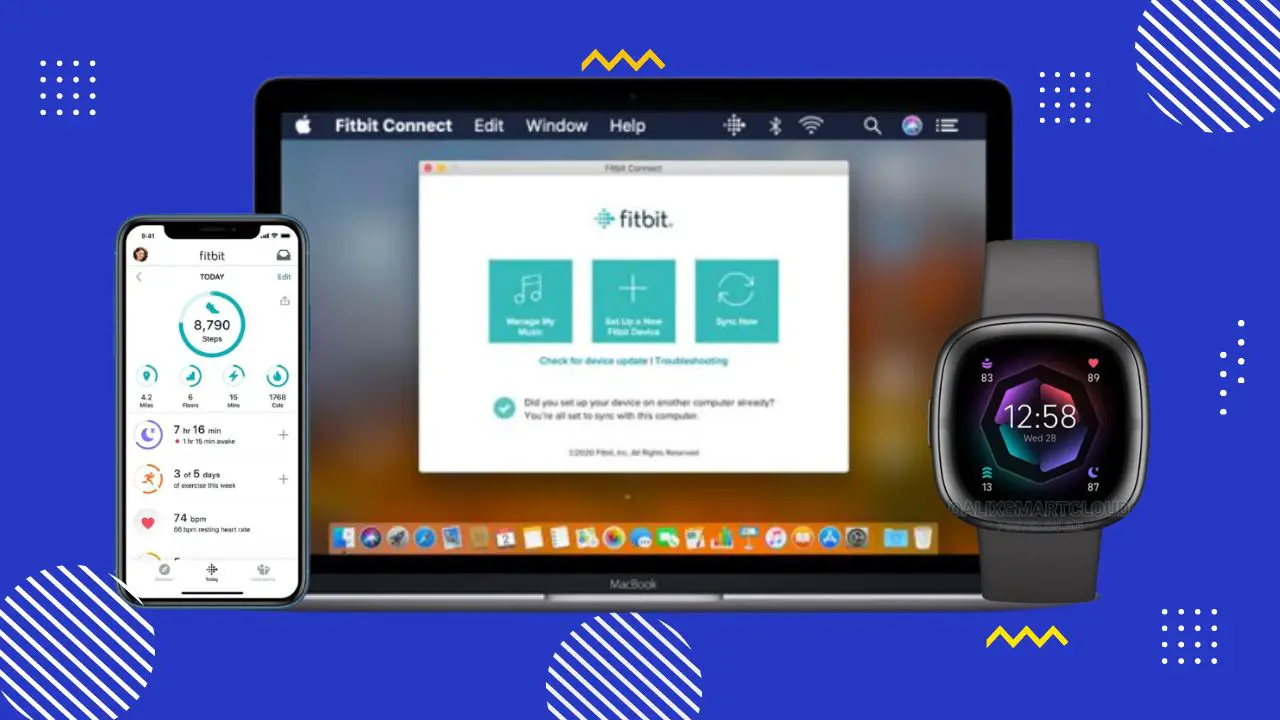 I consider using a computer as an alternative for setting up the device if your smartphone isn't within reach – or if you have a problem with the Fitbit app.
To get started:
Go to the Fitbit set up page, scroll to the bottom of the page, and click the Download from Windows Store button.
Download and install the app to your Windows 10 computer.
Note that the desktop application is also available for Mac computer, so you should benefit if your laptop runs on iOS. 
Log in to your Fitbit account – or create it if you don't have one already. 
Sync your Fitbit to your computer wirelessly if the computer supports Bluetooth connection.
Note that you can use Fitbit dongle to synchronize your Fitbit if your computer doesn't support Bluetooth.
However, the sync option is different for Fitbit Blaze. You have to place the model in a cradle and connect it to the port on your computer to synchronize data.
Note that you need the companion app to set up your Fitbit device, which is something you can't achieve if you don't have a personal computer or a phone.
However, you can use a Fitbit without a phone once you've completed the set up process.
Can I Add a New Fitbit to an Existing Account?
You don't need to create a new account if just bought yourself a second Fitbit.
You can add multiple devices to the same account, as long as they're of different types.
To add a new device: 
Tap the Today tab.
Next, tap the profile picture icon at the top left.
Select Set Up a Device.
Choose the Fitbit you would like to add to your account.
Follow the on-screen instructions to set up an additional device in the same account.
Adding one or multiple devices to the same Fitbit account is a matter of personal preference.
For example, you may want to use Fitbit Charge 5 for fitness tracking during your work and Fitbit Sense 2 because of its smartwatch feature.
You even have the option to switching between devices in seconds, not to mention that Fitbit gives you a summed up view of your performance for an all-inclusive view.
And should you decide to give your Fitbit away because you bought a new one, all you'll have to do is to clear your data from the watch and delete the device from your account.
Frequently Asked Questions
1. Do I Get Premium When I Set up Fitbit for the First Time?
If it's your first time setting up a Fitbit, you will get a 90-day Fitbit premium trial, which you can cancel or continue thereafter depending on your perception of its value.
Given that the premium option includes additional features that you can't find anywhere else, it might be worth continuing your subscription after the 3 months of free trial elapse.
2. Why Can't I Verify My Email Address When Signing Up for Fitbit?
There are two possible reasons why you didn't receive an email from Fitbit to verify your account:
You entered the wrong email address.
Fitbit sent you an activation email but it ended up in your spam folder.
Double check to ensure your email address is correct. If it is, check your spam folder for an email from Fitbit, and then whitelist the address so that you don't miss important alerts.
3. Can You Use 2 Fitbits the on the Same Computer
You can't run multiple Fitbit on the same computer simultaneously. You must first log out of the current account and set up access for the second device.
And whenever you want to see the data collected by the second Fitbit, you will need to log out of the older account and log in to the new one.  
4. Why Won't My Fitbit Connect to Phone
Your Fitbit won't sync to phone because there's an issue with Bluetooth connection.
I recommend that you turn off Bluetooth on both the tracker or smartwatch and your phone, wait for about 30 seconds, turn Bluetooth back on again, and try connecting the devices.
If the watch or tracker still fail to connect to the phone, restart both devices and try again.
And if restarting both devices doesn't fix the problem, do a factory reset for the smartwatch or tracker and then try reconnecting again.
Final Thoughts
I hope that this guide has helped you to set up your Fitbit fitness tracker or smartwatch fast.
Should you have any problem pairing the device to your iOS or Android phone, you should check if Bluetooth is active on both devices.
Also, you want to make sure that your Fitbit is in range with your phone during the set up process, as well as when synchronizing data from the watch to your account.